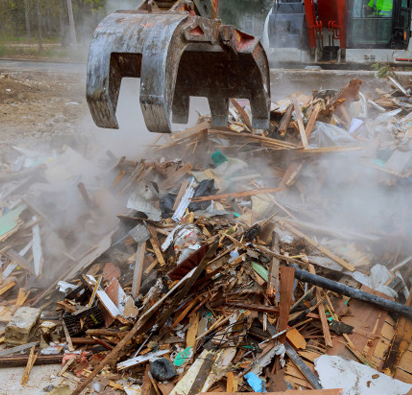 Handling waste generated by your construction project is the last thing you want to worry about. We deal with your waste effectively. Not only that, we will recycle the unwanted waste where possible, so you can just focus on getting your job accomplished. No matter what the project size, we provide various construction and demolition recycling services and waste management at competitive rates.
If you're looking to recycle your wood waste from a business construction site, allow us to serve you better with our unmatched construction recycling services. Aside from wood, there are several other materials that we recycle, including:
Glass – We recycle your glass waste generated by demolition, or when using glass on a construction site. Glass may include windows, ovenware, and other types.
Metals – We recycle metals disposed of at construction sites. Gates, piping, metal radiators, etc. can be reprocessed.
Asphalt – It's good to recycle asphalt waste generated from constructing parking lots, walkways, and driveways. Use our bins and containers for recycling purposes.
Old Concrete – Recycling old concrete helps reduce the cost of construction.
Demolition does not necessarily have to mean that everything has to be discarded. We, offer you convenient recycle bins for the cleaning of your demolition site, and we provide top-quality collection services.                       
We take great pride in its high-tech recycling facility and equipment. We go the extra mile when it comes to providing you with a secure, efficient, cost-effective, and eco-friendly solution for all your construction and demolition (C&D) needs.
Unsure which leftover materials can be recycled? A few examples of recyclable construction and demolition waste include Tile, Porcelain, Plastic, Concrete, Metals, Masonry, and Lumber. When you hire a reputable name in the industry for developing a construction and demolition recycling program, you can rest assured that your project(s) will run efficiently. Thus, you will do your bit in benefiting the environment.
One of the most significant benefits of hiring us for demolition recycling services is that you can save money. Also, recycling C&D waste is beneficial for the environment. Not only that, it sends less waste to landfills and reduces the use of natural resources.
From hauling away construction and demolition waste, to sanitation solutions, we can help you deal with your C&D projects reliably and effectively. No matter what your project, we are a trusted partner in getting it done right the first time.