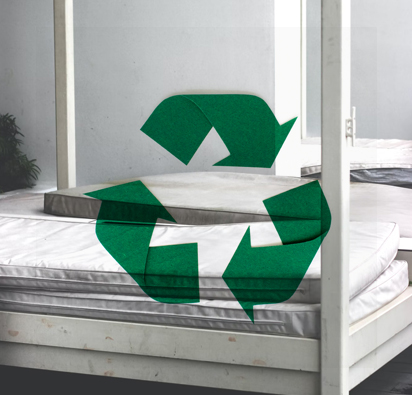 Mattress Recycling Services– Surrey, Vancouver
We offer top-quality mattress recycling services at the best and most affordable prices. We have a team of experts that will dispose and recycle mattresses from residents in Vancouver and the Lower Mainland. We make it easier for businesses and residential property owners to dispose of their old mattresses economically and sustainably.
Our mattress recycling services offer flexibility suited to meet your schedule. Our team of experts will responsibly recycle the mattress not landfill it. Thus, it will be easier for you to get rid of the old one. Our main goal is to prevent as many mattresses as possible from ending up in a landfill. Mattresses flatly disposed of in landfills are dangerous for operators and equipment as they create pockets of large void spaces and gather potentially dangerous gases that can trap equipment if it collapses into the mattresses.
So, if you are looking for affordable and professional mattress recycling Surrey and the Lower Mainland have to offer, give us a call! You can easily contact us during our office hours to confirm a pickup from your residence. We make mattress recycling pickup booking a hassle-free process. We provide mattress recycling services in Vancouver services in Surrey, Abbotsford, Vancouver, Richmond, North Vancouver, Burnaby and across the lower mainland.
So, what are you waiting for? Complete your search for the best mattress recycling service provider in Vancouver at us. We assure you to provide the best services and save your time and money.
Mattress Recycling Frequently Asked Questions 
Why should I opt for the mattress recycling option? 
It is better to recycle mattresses rather than throw them away as they can take a lot of space in a landfill. Based on a study, 80% of the mattress's fabrics can be recycled.
What type of materials in the mattresses can be recycled? 
Your mattress comprises different materials such as steel springs, polyurethane foam, wood frame, and outer fabric. The top layer is cut, peeled, and removed to expose the remaining materials in the recycling process. The wood is chipped for mulch, metal springs are sold as scrap metal, and the foam can be recycled into carpet padding and fabrics.
Where can I recycle my old mattress? 
If you are buying a new mattress, book us for your next mattress recycle pickup. Our team will provide you with all the necessary details about the recycling process.
What happens to my old mattresses become when they are recycled?
Every part of the mattress such as wood, metal, cotton, wool, and plastics can be used recycled.
What time will my mattress be picked up? 
You can call our team and schedule a time to pick up the mattress. They will arrive on time and help you in recycling your mattress.
Do I pay the price I see or are there more additional fees? 
You only pay what we quote you. There are no hidden charges for our services.
Do you pick up from senior living facilities? 
Yes, we pick up from senior living facilities. If you have any special accommodations, let us know.
How to contact ABC Maintenance for mattress recycling?
Visit our website abcmaintence.ca. You can also email us at info@abcmaintenance.ca, or call us on 1-800-749-6100.