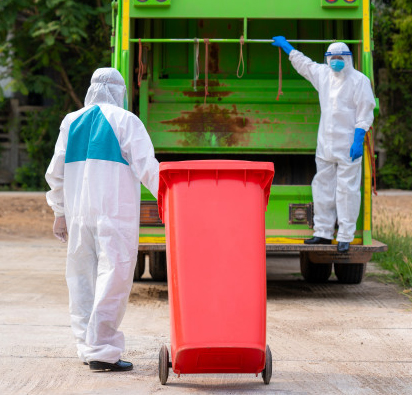 Compactor Hauling Service
We offer one of the most trusted names in the industry for providing effective and dependable waste management solutions. We know that businesses use compactors for diverse reasons, such as maintaining a clean site and ensuring hygienic conditions.
Our commercial compactor hauling service helps you significantly minimize the volume of your waste. It can also reduce the amount of transportation needed for dumping. With our compactor services, you can look forward to considerable savings on hauling and energy costs.
Commercial compactors can be segregated into two types: self-contained and stationary.
Self-Contained Commercial Compactors – If your business places a great emphasis on maintaining neatness and office safety, it's time you partner with a leading company for reliable service. Our self-contained commercial compactor is a perfect solution for waste management – KRP Waste Solutions.
A self-contained commercial compactor is used by:
Department stores
Nursing homes
Clinics
Motels
If you want to reduce hauling costs, settle for no less than a self-contained commercial compactor. They're designed to stand up to not only the toughest applications, but can provide robust solutions for a number of wet applications.
Stationary Commercial Compactors – A stationary commercial compactor is an ideal solution for facilities where a huge volume of dry waste is generated. If your business generates at least 100 cubic yards of trash per week, then using our stationary compactor could benefit you by lowering waste collection costs.
A self-contained commercial compactor is ideal for:
Shopping Malls
Retail outlets
Distribution Centers
Printing Presses
These compactors are immensely popular in those areas (shipping and receiving) where waste packaging and materials used for wrapping build up rapidly. Using a stationary compactor will help you create a secure and spotless waste area.
It's good to have your trash compacted close to where it's generated. We offer you several compactors you can choose from, which assures you of a positive cash flow. No matter what type of business you're in, waste is generated. We offer trash compactors in different sizes, including:
We truly understand that each business has certain needs that are unique. We assist you in identifying the best compactor for your business needs at a cost-effective price. Our industrial compactor hauling service will help you eradicate a large amount of solid waste.
Our waste or trash compactors are generally used to process those materials that cannot be recycled. If you want to minimize operating costs and dependence on your workforce, then choosing a compactor equipped with an automatic loading facility will be a smart move.